Astrologers in Europe and Further Afield!
You are all invited to two major Astrological Events in stunning Perugia, Italy
on the first weekend of July 2017


1. The Ethics Awareness Professional Training Course through ISAR in conjunction with Nunzia Meskalila Coppola – the Italian ISAR VP and Ethics trainers Dorothy Oja (USA) and Margaret Gray (Ireland) (This is a unique opportunity to attend this professional course in person in Europe) The course will be in English and Italian and is ideal for all levels of astrological interest!

2. The 9th International Astrology Conference in Perugia – Paths to Knowledge - hosted and organised by Nunzia Meskalila Coppola with Italian and International speakers including: Wade Caves, David Cochrane, Smiljana Gavrancic, Francesca Furino, Filippo Magi, Philip Graves. Gioia Oddi, Lucia Bellizia, Chiara Gelmetti and Milla Basso. Note that beautiful Perugia is steeped in Astrological art, as well as being next to Assisi!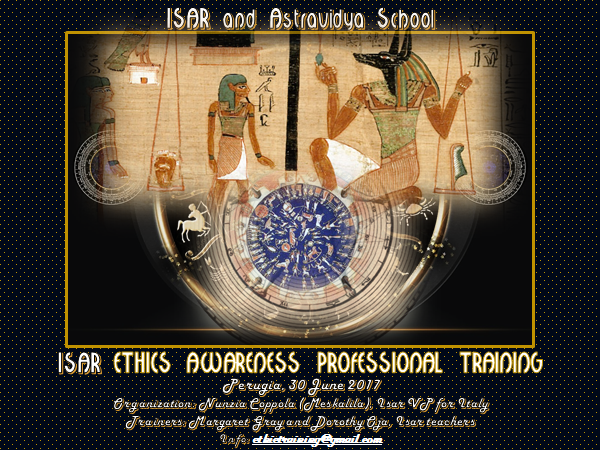 1. The Ethics Awareness Professional Training Course June 30th and July 2nd
This First ISAR Ethics professional training course in Italy will take place on June 30th from 1- 5pm followed by the Ethics test from 7 - 8pm. The results will be shared with course attendees on Sunday afternoon after the conference from 3 - 5pm.

This is a unique 4 hour Training course which covers all the most important parts of Ethical issues that you might encounter in your practice as a professional astrologer. Although developed through ISAR, the Ethics Awareness Training is a must for the professional development of all astrologers and a great credit for your resume.

The ISAR Ethics Document and all its sections are used as a guide to teach this Course. Also included is a very new and important section on Non-Discrimination. There will be plenty of time to share your own stories of Ethical dilemmas and for you to ask questions.

The Training is followed by a 1 hour Ethics test after the dinner hour on 6/30/17, 7-8PM.

The final piece of the Training is a private session with you to go over any incorrect answers on the Ethics Test, so that you fully understand the principles of Ethics in relation to all of your encounters with clients, colleagues and as an ambassador for Astrology, as you move through your world.

Once this step is completed, you will be eligible to receive your Certificate for the ISAR Ethics Awareness Training.

The cost of the Training, inclusive of the Test is $95 USD. The course will be in English and translated into Italian by the Italian Isar VP Nunzia Mescalila Coppola. You do not need to be a member of Isar to participate in this course. You can enrol via this link:
https://app.etapestry.com/cart/InternationalSocietyforAstr/default/category.php?ref=1135.0.370091033

We very much look forward to being with you and sharing this Training with you.

Bios of Trainers:

Dorothy Oja MindWorks is a career professional astrologer, certified ISAR C.A.P. Speciaties: Timing research (surgery, weddings, etc.), Relationship Charts (Davison), Children's Profiles. She is an active writer, teacher, and international lecturer. Her newsmagazine, PlanetWeather published for 19 years includes mundane analysis of people/events and relevant planetary configurations. Daily blog: FB:Planetweathernews. Dorothy's book in progress is on the Davison Relationship Chart. She is Faculty for The International Academy of Astrology online, teaching 9-week courses on Relationship Astrology and Ethics & Professionalism. Author of computer reports: Compatibility & Conflict for Romantic Relationships and Friendship and Business, (Cosmic Patterns Software). Published book: Planetary Resonance, Everything Leaves a Trace (2012). Community service: 30 years total. AFAN, and 16 yrs. on ISAR Board, developer of its Ethics Awareness Training Program and Ethics Mediation. Newest project: TheRelationshipClub (see FB page) engages speakers from the astrological community to discuss various perspectives on the astrology of relationship. Twitter: ojadorothy
www.planetweather.net DOja07@gmail.com

Margaret Gray, MSW D. Psych. Astrology is a consulting and teaching astrologer, based in Dublin, Ireland with a foot in Hawaii! She is also a certified couples and family mediator. Her work is grounded in a Jungian based psychological approach, integrated with a soul based perspective. Her main focus and interest is in the astrology of Relationships and in October 2016 she and her colleague Armand Diaz set up 'Relationships and Astrology' www.relationshipsandastrology. Margaret and Armand offer training courses and webinars as well as individual and couples consultations in all aspects of Relationships. They also offer free weekly YouTube recordings and blogs on their facebook page
https://www.facebook.com/Relationships-and-Astrology-1084187468316035/ Margaret is the author of a chapter on Relationships in the book "Transpersonal Astrology: Explorations at the Frontier" and is currently completing a book on The Astrology of Relationships. Margaret was on the Isar board of Directors for four years during which she instigated and co-created the non-discrimination policy and training aspect of the Ethics training with Dorothy Oja and Sam Reynolds. Margaret is the founder of 'Astrology Ireland'. She has been delighted to present at astrology conferences worldwide, as well as teaching online independently and on behalf of astrology schools such as Kepler College. You can twitter Margaret @relationastro and feel free to check out her websites at www.astrologypsychological.com www.relationahipsandastrology.com or email graymgt@gmail.com

Nunzia Coppola (Meskalila), D.F.Astrol.S, ISAR VP, MAPAI and Honorary Doctor in Astrology. A Karmic Astrologer and Gestalt Counsellor, she is the founder of Astravidya School of Astrology. She uses worldwide myths to conduct workshops. She has written "M for Marvel" and "D for Desire", La Cittadella Editions; "The Moon and her Goddesses. The path of karmic astrology", Capone Editions. In February 2016, the Indian Institute of Oriental Heritage awarded her as "Global outstanding astrologer" and "Astrologer of the Year, 2016".

2. The 9th International Astrology Conference in Perugia, Italy
Paths to Knowledge - July 1st & 2nd 2017
SALA DEI NOTARI, PERUGIA ITALY
Sponsorship: Municipality of Perugia and C.I.D.A
Organiser and director: Nunzia Coppola (Meskalila)
Moderator: Cida president Dante Valente

MARKETTING AND ADVERTISING: Eleonora Boscarato e Marino Cortese
SECRETARY: Lucia Gangheri
CONFERENCE TEAM: Francesca Lumini, Adriana Lumini, Mariolina Neola.
TRANSLATORS: Riccardo Bosi, Tania Daniels, Filippo Maria Magi, Saara Karhu
PUBLISHING HOUSE: Chiaraceleste Edizioni (Capone).
BOOKSHOP: Libreria Cavour Esoterica
Info: associazionejayavidya@gmail.com

The International Astrology Conference has two main aims:
• To disseminate Astrology as a tool for greater self-awareness and personal empowerment
• To promote the intercultural diversity and pluralism of Astrology
• To create opportunities to exchange skills and gain new ones
By helping us to transcend the rupture between the sacred and the profane, Astrology acknowledges the various aspects of a multifaceted reality. The theme of this year's conference is everything that connects us with the number nine and to knowledge in its widest sense. This includes philosophy, learning, travel, evolutionary journeys and connections with different forms of otherness. Knowledge also includes the nature of the celestial bodies which suggest ways of exploring our own essence. Substantiating the ancient sacred connection between the macrocosm and microcosm, knowledge embraces the inherent values in every dimension of awareness.

As per tradition with our conference, well-known local and international astrologers will share aspects of their valuable knowledge and experience.
We will also honor two astrologers with the International Jayavidya Award for excellence in their field of Astrology. They will receive a certificate and a medal at the start of the conference.

SPEAKERS AND PRESENTATIONS (in alphabetical order)
1. BASSO MILLA: Chiron, the wanderer of the soul.
2. BELLIZIA LUCIA: The eighth sphere.
3. CAVES WADE: The Oracle of the Soul: Astrology of the Ninth House. Translation by Riccardo Bosi.
4. COCHRANE DAVID: 108 steps to Enlightenment. Translation by Filippo Magi.
5. COPPOLA NUNZIA MESKALILA: Das Mahavidyas and Gestalt Astrocounselling.
6. FURINO FRANCESCA: Educating AstroSinteticaMente
7. GAVRANCIC SMILJANA: The Jupiter/Saturn Major Conjunction in December 2020 – a Better World? Translation by Tania Daniels.
8. GELMETTI CHIARA: Sacred Geometry and Body Movement.
9. MAGI FILIPPO MARIA: The Astrological Mysticism of Ruysbroeck
10. GRAVES PHILIP: The Philosophy of Astrology in Nineteenth Century England.
11. ODDI GIOIA: Marguerite Yourcenar and the Fate of the number 9.

CONFERENCE REGISTRATION
Your place can only be confirmed when the secretary has received the completed registration form plus the conference fee of € 32,40 (thirty-two Euros and 40 cents). The price is the same whether you attend one or both days. Payment should be sent to Associazione Culturale Jayavidya: Iban IT94T0760103000001026122935. Where it states 'reason for payment' - please write your name, surname and the words "Erogazione per IX Convegno Jayavidya".
To register, you can choose one of the following three options.
I. PREMIUM REGISTRATION: by 28/04/2017. Includes: attendance, copies of all the presentations (by We transfer, before the Conference) and the sidereal chart with your Ninth house graphic karmic project (in the folder at reception).
II. SPECIAL REGISTRATION: by 30/05 /2017. Includes: attendance and copies of the presentations (before the Conference, by We transfer).
III. REGULAR REGISTRATION: by the 30th of June 2017. Includes: attendance.
IV. GROUP REGISTRATION: groups of 5 people pay a min of 30 € per person and can choose any of the above - I, II, or III.
V. REGISTRATION FOR HELPERS (interpreters, desk assistants etc): free premium registration.
VI. CONFERENCE PAPERS FOR NON ATTENDEES: at least 20 €. They will be sent only by email in PDF format, after the event.

THE REGISTRATION FEE DOES NOT INCLUDE THE GALA DINNER ON JULY 1st or YOUR HOTEL ACCOMODATION
NB
Seats will be reserved according to the date you make your booking, so best to book early! When the Conference is fully booked an official announcement will be made that the enrollment stage is over.

CANCELLATION
Cancellations by June 10th will be entitled to a full refund minus an administrative handling fee.
No refunds are available from June 11th – Although a PDF of the Conference talks will be sent to you by email.

INFORMATION: convegnojayavidya@gmail.com
REGISTRATION: convegno2017@gmail.com

ACCOMODATION FOR THE ETHICS TRAINING COURSE & THE CONFERENCE
HOTEL EUROPA, Domus Minervae. VIALE POMPEO PELLINI, 19. 06124 PERUGIA . TEL : 0755732238
• Double room for single use: Euro 40,00 per room per night including buffet breakfast;
• Double / Double: Euro 55,00 per room per night including buffet breakfast
• Triple: Euro 65,00 per night including buffet breakfast
• Quadruple Room: Euro 75,00 per room per night including buffet breakfast
There is also a small additional Tourist tax set by the Government
To make a reservation please contact the hotel directly and let them know that you are attending the Associazione Culturale Jayavidya International Conference.

Additional hotels for those who do not want to take advantage of the conference rates or if the Europa hotel is fully booked.

HOTELS AND GUEST HOUSES
• HOTEL BONAZZI
Via L. Bonazzi, 55 - Tel. +39 0755727701 - Fax +39 0755737294- bonazzihotel@tiscali.it - www.bonazzihotel.it
• HOTEL FORTUNA
Via L. Bonazzi, 19 - Tel.: +39 0755722845 - +39 0755731372 - (Breakfast included)
• HOTEL IRIS
Via Marconi, 37 – 06122 - Tel.: +39 0755720259 - Fax: +39 0755720073 - Mobile: +39 3929861326 - info@hotelirispg.com
• HOTEL UMBRIA
Via Boncambi, 37 - Tel.: +390755721203 - Fax : +39 0755737952
• HOTEL GIO' ARTE E VINI
Via D'Andreotto, 19 - Tel.: +39 0755731100
• HOTEL PERUSIA E LA VILLA
Via Eugubina, 42 bis - Tel: +39 0755730973 – Fax: +39 0755722875 - info@hotelperusia.it
www.hotelperusia.it
• HOTEL PRIORI
Via dei Priori, 40 - Tel.: +39 0755723378 - +39 0755729383
• SAN SEBASTIANO HOTEL
Via San Sebastiano, 4 - Tel.: +39 0755727865 - Fax: +39 0755732006
• PENSIONE ANNA
Via dei Priori, 48 - Tel.: +39 0755736304
• PENSIONE ROSALBA
Via del Circo, 10 - Tel: +39 0755720626 - +39 0755728285

HOLIDAY COTTAGES
• AGRITURISMO "LA VOLPE E L'UVA"
Strada comunale San Marino 25. - Tel. +39 0755899951 - volpeuva@tin.it
• AGRITURISMO "LA LOCANDA DEI GOLOSI"
Via Eugubina 225 - Località Pieve Pagliaccia-Bosco (Pg) - Tel. + 39 0755918606
lalocandadeigolosi@hotmail.com - www.lalocandadeigolosi.it

HOSTELS
• OSTELLI DELLA GIOVENTÙ - Centro internazionale di Accoglienza per la Gioventù
Via Bontempi, 13 Perugia - Tel. +39 0755722880 - Fax: +39 0755739449
• OSTELLI DELLA GIOVENTÙ - M. Spagnoli Youth Hostel
Via Cortonese 4, Pian di Massiano - Tel.: +39 0755011366 - Fax: +39 0755026805
• OSTELLI DELLA GIOVENTÙ - "Torri Baldelli Mombelli" Youth Hostel
Via Maniconi, Ponte Felcino, Perugia - Tel.: +39 0755913991 - Fax: +39 0755914203

BED & BREAKFAST
• NUBES ALBA -
Via Guglielmo Calderini 17, 06122 Perugia, Italia. Telefono: +39 393 6549889 +39 075 9072046. email: info@nubesalba.com http://www.nubesalba.com/camere-descrizione-e-prezzi/
• SPRING
Strd. Delle Pulite, 30 Perugia - Monte Malbe, Zona Città della Domenica - Cell. 347.10.32.127 - tel./Fax: +39.075.51.79.494
• VILLA FORASIEPI
Via Romana, 32 (ex via Assisana 32). 06135 PERUGIA –Tel. 075.32936 – Fax 075.32936 – Mobile 338.6228635. E-mail: info@villaforasiepi.com
• A CASA DI LUCA
Via Appia 59, Perugia. luca_altieri@libero.it - Tel. 339 2564077
• ALLA MAISON DI ALESSIA
Via Bartolo 55/61, Perugia. Tel. 345 0784208 - Cell. 345 0784208 Fax 075 5848391
• LE NAIADI
Via Luigi Bonazzi 17, Perugia. Via Bonazzi, 17 Perugia - Tel.: 333.7417408 - 349.2913914 - paola@beblenaiadi.com
• IL BUFALO
Via Del Bufalo 10, Perugia. Via Luigi Bonazzi, 17. Perugia. Telefono:349 661 3462
• GARDEN HOUSE
Via Boncambi, 29 - Cell. 348 4742159 - Fax 075 5735643 info@gardenhouseperugia.com
• A VILLA AURORA
Strada per Pretola, 14. Località "Cava della Breccia" - 06100 Perugia
telefono +39.075.5720031 - cellulare +39.346.1025075 +39.335 6822019 +39.338.6822000 - info@avillaaurora.it
• IL GIARDINO DI ALICE
Via Solitaria 1 06121 PERUGIA - Telefono: 3931521638- 3473224237 - Fax: 075987072 - E-mail: donabera24@yahoo.it - www.algiardinodialice.com

TRAVELING TO PERUGIA
• BY CAR
If you come from the North, you get off the Rome-Florence Autostrada A1 onto the "Raccordo Perugia Bettolle," the extension to Perugia. Get off at either the "Prepo" or "Piscille" exit and follow the signs to the center. Park near Piazza dei Partigiani and take the escalators up. From the South you can also take the E45 superstrada north from Orte to Perugia.

• BY PLANE
From Perugia's airport PEG (S.Francesco Airport) There is a small Sulga bus that will take you to Perugia's historical center (Piazza Italia) or to Fontivegge. The schedule coincides with flight arrivals so it will be there when you land. The stop is across from the arrivals. The return schedule is on the bus stop in Piazza Italia. It is approx. a 20 minute walk from Piazza Italia to Hotel Europa. Note that there are a lot of hills and cobblestones in Perugia so best to wear comfortable shoes if you are walking from the bus stop to the hotel. You can also get a taxi to take you there.
From Pisa airport. Take the airport train to Firenze (Florence) and then a train to Perugia.
From Roma Fiumicino FCO (also called Leonardo da Vinci).

• BY TRAIN FROM THE AIRPORT RAILWAY STATION
Buy a ticket to Roma Tiburtina (€8) and then from Roma Tiburtina to Perugia (€10.12). If you say "Airport to Perugia" you'll pay the extortionary €14 from Fiumicino to Roma Termini (on the express train) and then €10.12 from Roma Termini to Perugia. Don't arrive too late in Rome: if you leave Rome after 20:00 you may not get the train to Perugia. Be sure to get off at "Perugia" and not the smaller suburban station Perugia Ponte San Giovanni. The main station is also called "Perugia Centrale" or "Perugia Fontivegge."
Check the Trenitalia train schedule in English

• BY BUS (FROM FIUMICINO ROME AIRPORT TO PERUGIA)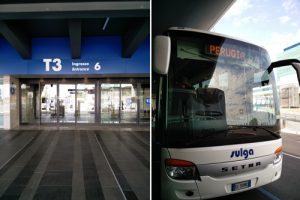 There are several Fiumicino airport buses every day operated by the Sulga company. The bus takes about three to three-and-half hours to get to Perugia but it saves you hauling your luggage on and off the train.
Take the Sulga bus from Rome airport (Fiumicino), and arrive in Perugia at Piazza Partigiani, the bus station. You might as well avail yourself of the timetable before you arrive (download it here: www.sulga.it).
To find the Sulga bus to Perugia at the Fiumicino airport:
Go outside the arrivals terminal and walk to your right until the end of the terminal 3; You should see "T3 Entrance 6" as seen in the picture.
The Sulga bus for Perugia waits around here (it says SULGA on the side) and tickets can be bought on board. The bus fare Rome Airport-Perugia or vice versa is around €22. Return fares work out cheaper but are only valid for one month.
Once you arrive in Perugia you will be in Piazza Partigiani