Conference - Speakers - Conference registration - Consultancy Skill Course - Lodgings - How to arrive to Perugia - Info
10 TH INTERNATIONAL CONFERENCE OF ASTROLOGY
"DOORS TO SUCCESS"
30 June 2018
SALA DEI NOTARI, PERUGIA ITALY
Patronage: Municipality of Perugia and C.I.D.A
Organisation and direction: Nunzia Coppola (Meskalila)
Moderation: Cida president Dante Valente
SECRETARY: Lucia Gangheri
COLLABORATION: Mariolina Neola
CASA EDITRICE: Chiaraceleste Edizioni (Capone)
BOOKSHOP: Libreria Cavour Esoterica
Info:
associazionejayavidya@gmail.com
Astrology Friends! Come to Perugia!
Spend a few days or more in Perugia Italy where Placidus from Titi was born.
Be surrounded by Astrological Art, while attending the fabulous 10th International Astrological Conference as well as a world-renowned Consultancy skill Course.
The International Congress of Astrology has a twofold objective:
• Spreading Astrology as a tool for awareness and personal empowerment
• Promoting Astrology in its diversity as an intercultural discipline.
Knowledge in its multidisciplinary approach is the theme for this year's Conference. Wisdom gives evidence of the ancient connection between above and below, while synthesising every field of knowledge. The rays from the celestial bodies suggest us how to explore our path towards knowledge. The Astrological vision may help us to transcend fractures between the sacred and the profane while validating countless levels of reality.
As our Congress tradition calls, international authorities in the field of Astrology will come and share their vast knowledge and valuable experience.
The Conference will be graced by 4 important sessions plus an optional extra event of high astrological training:
• Talks by the world Excellences in the Astrological field: Ten experts will propose their methods, research and studies in a form accessible to All.
• Jayavidya International Award: parchments and Merit Medals will be awarded to two excellences in the astrological field. The names will be communicated at the beginning of the conference.
• Indian sacred dance. A famous Indian dance artist will offer an unforgettable show.
• The literature corner: the Cavour Esoteric library, Chiaraceleste Edizioni and the presentation of the book by Patrizia Nava: a very interesting and valuable work on Lilly.


TITLES AND SPEAKERS (in alphabetical order)
• BIANCHINI ROSANNA. Astroquantum: The Gate of the Gods to access the information from planetary energies
• DUNN BARBARA. Celestial bodies and witnesses of success.
• FERRARI IULY. The answers of the sky and House tenth: the solution.
• LENOBLE YVES. The tenth. Why is the House of success?
• NASTRI CHRISTIANE. From father to son, but not always!
• PERLOFF DAVID. Planetary Patterns and Ten celestial Bodies.
• SALES MARIA LUISA. The dance of the ten Mahāvidyās.
• SOULBODY FRANCO. Who wants to become a Millionaire?
• TRENOWETH ALEX. The School of Success: Cooperation between students, parents and teachers.
• ZIGNANI NICOLETTA. Parental patterns and autonomy.


CONFERENCE REGISTRATION
Registration is only valid after the secretary has received the completed registration form along with receipt of the contribution to the conference cost of € €39,70 (thirty-nine Euros and 70 cents). This is regardless of length of participation (partial or full days, one or two). Payment should be sent to Associazione Culturale Jayavidya: Iban IT94T0760103000001026122935. In the reason for payment indicate your name, surname and the words "Erogazione per IX Convegno Jayavidya".
To register, you can choose from three options.
I. PREMIUM REGISTRATION: by 30/ 04/2018. Includes: attendance, papers (by We transfers, before the Conference) and the Karmica mandala for success (in the folder at the reception).
II. SPECIAL REGISTRATION: by 30/05 /2018. Includes: attendance and papers (before the Conference, by We transfer).
III. REGULAR REGISTRATION: by the 29th of June 2018. Includes: attendance.
SUBSCRIPTION DOES NOT INCLUDE THE GALA DINNER OF THE 30th June NEITHER YOUR HOTEL STAY

NB
The seats will be reserved in the chronological order of booking. To validate the registration secretariat will take into account the date of receipt of the documentation.
When the Conference will become fully booked an official announcement will definitely close the subscription phase.

CANCELLATION
Cancellations by May 10th will be entitled to full refund minus an administrative handling fee.
No refunds are available from 11th May – Although a PDF of the Congress reports will be sent by email.

INFORMATION: convegnojayavidya@gmail.com
CONFERENCE REGISTRATION: portedelsuccesso@gmail.com


CONSULTANCY SKILL COURSE, ENROLMENT AND REGISTRATION
ENROLLMENTS ARE ALSO OPEN for the first Consultancy Skill course through ISAR in Perugia, Italy on June 30th with Meskalila Nunzia Coppola - VP for ISAR Italia! The course will be in English and Italian. Spaces are limited so best book now! Trainers are Aleksandar and Lea Imsiragic. The Course will take place on the day before and the day after the International Astrology Conference in Perugia Italy! It is open to all astrologers! You don't need to be a member of ISAR to do this course! This is a wonderful opportunity to do this essential professional course in a stunning city steeping in Astrological art!
Information: isaritalia@gmail.com
Consultancy skill Enrollment and registration: https://app.etapestry.com/cart/InternationalSocietyforAstr/default/item.php?ref=1135.0.561613843


CONVENTION FOR LODGINGS
HOTEL EUROPA, Domus Minervae. VIALE POMPEO PELLINI, 19. 06124 PERUGIA . TEL : 0755732238
• Double room for single use: Euro 40,00 per room per night including breakfast buffet;
• Double / Double: Euro 55,00 per room per night including breakfast buffet-
• Triple: Euro 65,00 per night including buffet breakfast-
• Quadruple Room: Euro 75,00 per room per night including breakfast buffet.
Tourist tax according to the government rules-
For reservations please contact the hotel directly, and communicate at the hotel desk your participation in the Conference of Associazione Culturale Jayavidya.

Other hotels for those who do not want to take advantage of the convention or in the case that there will be no more places available at Europa hotel.

HOTEL AND INNS
HOTEL BONAZZI
Via L. Bonazzi, 55 - Tel. +39 0755727701 - Fax +39 0755737294 - bonazzihotel@tiscali.it - www.bonazzihotel.it
HOTEL FORTUNA
Via L. Bonazzi, 19 - Tel.: +39 0755722845 - +39 0755731372 - (Breakfast included)
HOTEL IRIS
Via Marconi, 37 – 06122 - Tel.: +39 0755720259 - Fax: +39 0755720073 - Mobile: +39 3929861326 - info@hotelirispg.com
HOTEL UMBRIA
Via Boncambi, 37 - Tel.: +390755721203 - Fax : +39 0755737952
HOTEL GIO' ARTE E VINI
Via D'Andreotto, 19 - Tel.: +39 0755731100
HOTEL PERUSIA E LA VILLA
Via Eugubina, 42 bis - Tel: +39 0755730973 – Fax: +39 0755722875 - info@hotelperusia.it - www.hotelperusia.it
HOTEL PRIORI
Via dei Priori, 40 - Tel.: +39 0755723378 - +39 0755729383
SAN SEBASTIANO HOTEL
Via San Sebastiano, 4 - Tel.: +39 0755727865 - Fax: +39 0755732006
PENSIONE ANNA
Via dei Priori, 48 - Tel.: +39 0755736304
PENSIONE ROSALBA
Via del Circo, 10 - Tel: +39 0755720626 - +39 0755728285

HOLIDAY COTTAGES
AGRITURISMO "LA VOLPE E L'UVA"
Strada comunale San Marino 25. - Tel. +39 0755899951 - volpeuva@tin.it
AGRITURISMO "LA LOCANDA DEI GOLOSI"
Via Eugubina 225 - Località Pieve Pagliaccia-Bosco (Pg) - Tel. + 39 0755918606 - lalocandadeigolosi@hotmail.com - www.lalocandadeigolosi.it

HOSTELS
OSTELLI DELLA GIOVENTÙ - Centro internazionale di Accoglienza per la Gioventù
Via Bontempi, 13 Perugia - Tel. +39 0755722880 - Fax: +39 0755739449
OSTELLI DELLA GIOVENTÙ - M. Spagnoli Youth Hostel
Via Cortonese 4, Pian di Massiano - Tel.: +39 0755011366 - Fax: +39 0755026805
OSTELLI DELLA GIOVENTÙ - "Torri Baldelli Mombelli" Youth Hostel
Via Maniconi, Ponte Felcino, Perugia - Tel.: +39 0755913991 - Fax: +39 0755914203

B&B
NUBES ALBA -
Via Guglielmo Calderini 17, 06122 Perugia, Italia. Telefono: +39 393 6549889 +39 075 9072046. email: info@nubesalba.com - www.nubesalba.com/camere-descrizione-e-prezzi/
SPRING
Strd. Delle Pulite, 30 Perugia - Monte Malbe, Zona Città della Domenica - Cell. 347.10.32.127 - tel./Fax: +39.075.51.79.494
VILLA FORASIEPI
Via Romana, 32 (ex via Assisana 32). 06135 PERUGIA – Tel. 075.32936 – Fax 075.32936 – Mobile 338.6228635. E-mail: info@villaforasiepi.com
A CASA DI LUCA
Via Appia 59, Perugia. luca_altieri@libero.it - Tel. 339 2564077
ALLA MAISON DI ALESSIA
Via Bartolo 55/61, Perugia. Tel. 345 0784208 - Cell. 345 0784208 Fax 075 5848391
LE NAIADI
Via Luigi Bonazzi 17, Perugia. Via Bonazzi, 17 Perugia - Tel.: 333.7417408 - 349.2913914 - paola@beblenaiadi.com
IL BUFALO
Via Del Bufalo 10, Perugia. Via Luigi Bonazzi, 17. Perugia. Telefono:349 661 3462
GARDEN HOUSE
Via Boncambi, 29 - Cell. 348 4742159 - Fax 075 5735643 info@gardenhouseperugia.com
A VILLA AURORA
Strada per Pretola, 14. Località "Cava della Breccia" - 06100 Perugia
telefono +39.075.5720031 - cellulare +39.346.1025075 +39.335 6822019 +39.338.6822000 - info@avillaaurora.it
IL GIARDINO DI ALICE
Via Solitaria 1 06121 PERUGIA - Telefono: 3931521638- 3473224237 - Fax: 075987072 - E-mail: donabera24@yahoo.it - www.algiardinodialice.com


HOW TO ARRIVE AT PERUGIA
1. BY CAR
If you come from the North, you get off the Rome-Florence Autostrada A1 onto the "Raccordo Perugia Bettolle," the extension to Perugia. Get off at either the "Prepo" or "Piscille" exit and follow the signs to the center. Park near Piazza dei Partigiani and take the escalators up. From the South you can also take the E45 superstrada north from Orte to Perugia.

2. BY PLANE
From Perugia's airport PEG (S.Francesco Airport).
There is a small Sulga bus to take you to Perugia historical center (Piazza Italia) or to Fontivegge, and it is scheduled according to flight arrivals so you don't need to worry.

• From Pisa airport. Take the airport train to Firenze (Florence) and then a train to Perugia.

• From Roma Fiumicino FCO (also called Leonardo da Vinci).
• By train from Airport railway station. Buy a ticket to Roma Tiburtina (€8) and then from Roma Tiburtina to Perugia (€10.12). If you say "Airport to Perugia" you'll pay the extortionary €14 from Fiumicino to Roma Termini (on the express train) and then €10.12 from Roma Termini to Perugia. Don't arrive too late in Rome: if you leave Rome after 20:00 you may not get the train to Perugia. Be sure to get off at "Perugia" and not the smaller suburban station Perugia Ponte San Giovanni. The main station is also called "Perugia Centrale" or "Perugia Fontivegge."
Check the Trenitalia train schedule in English

3. BY BUS (FROM FIUMICINO ROME AIRPORT TO PERUGIA)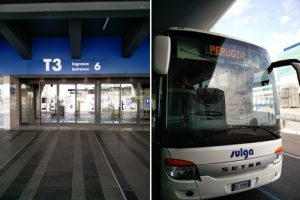 There are several Fiumicino airport buses every day operated by the Sulga company. It takes from three to three-and-half hours to get to Perugia but it saves you hauling your luggage on and off the train.
Take the Sulga bus from Rome airport (Fiumicino), and arrive in Perugia at Piazza Partigiani, the bus station. You might as well avail yourself of the timetable before you arrive (download it here: www.sulga.it).
To find the Sulga bus to Perugia at the Fiumicino airport:
Go outside the arrivals terminal and walk to your right until the end of the terminal 3; You should see "T3 Entrance 6" as seen in the picture.
The Sulga bus for Perugia waits around here (it says SULGA on the side) and tickets can be bought on board. The bus fare Rome Airport-Perugia or vice versa is around €22. Return fares work out cheaper but are only valid for one month.
• Once you arrive in Perugia you will be in Piazza Partigiani


registration form